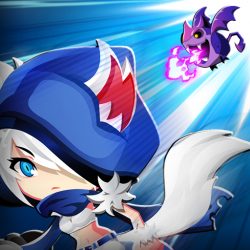 Valkyria Shooter
Running & Shooting
Enjoy easy-to-control combat battle system with the adorable Valkyries! Begin your journey of finding Ymir's Heart and challenge yourself against legendary beasts!
Valkyria Shooter is a unique ''Escaping & Shooting Action" game – while you run away from powerful monsters, you have to shoot those monsters while under pursuit at the same time. Although this sounds easy and simple, you won't be able to relax even a single moment!
There are up to a massive 1,000 playable stages as well as six different Dungeons available. Valkyria Shooter also incorporates an immersive RPG character development system including fast level-up, equipment smelting, and combining collections of materials, servants, artifacts and more! You will play non-stop and completely forget the word 'boredom'.
Follow the epic story of Goddess Freyja and her five loyal Valkyries and their pursuit to summon 25 species of servants and search for 27 pieces of artifacts to form a powerful order of knights. With a stronger group, you can compete with thousands of other players to set the highest record.
The Special Event is available right NOW! Log-in and receive tons of rewards and freebies!
Key Features:
◆ Countless levels to enjoy – up to 1,000 playable stages
◆ Play in 6 Dungeons in 4 Levels of Difficulty: Normal, Hard, Master, Hell
◆ Summon all 25 Servants throughout your adventure!
◆ Fasten your running speed to slow down the monsters chasing you
◆ Extremely fun and simple to play!