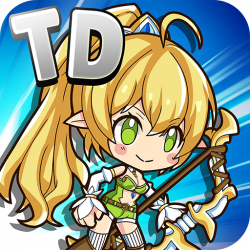 Guardian Spirit TD
Hero Defense
Be a great Summoner to protect the sanctuary from the evil force who put the once-peaceful continent into chaos.
This strategy defense with cool heroes even offers an Auto Play feature! If you like adventure, battle, and challenge, this is the game for you.
The best tower defense game you can play with just one hand. Fight together with the best hero characters anytime, anywhere.
Download this summoning RPG game right now!
※ This game is free to play, but you are able to purchase some paid items. Additional cost will be charged when you purchase the paid items. Refund may not be available according to the type of the paid item.
● HOW TO PLAY
– Stop the evil force by summoning powerful heroes with different characteristics and attributes.
– Use strategy when you deploy heroes, activate skills, and consume mana in order to clear the stages.
– Upgrade and enhance heroes, ancient relics, and guardians to defeat the strong enemies.
– Clear the dungeons and protect the sanctuary to receive various rewards.
– Use Auto Hunt and Quick Battle to get constantly stronger.
● GAME FEATURES
– Summon fantasy heroes (Human, Elf, Beastman) with different personality and background story!
– Idle + defense game with easy controls and simple gameplay that anybody can enjoy
– Endless rewards from Mission, Quest, and Achievement! Have fun 24/7, all year around!
– Join the fierce competition between players all over the world in Arena!
– Sit back, relax, and grow! Battle game with depth!
★ TIPS ★
You can combine two identical heroes with same upgrade levels.
As the hero becomes stronger, it will take more mana to summon the hero, but the chance to activate a special attack will increase.